In general, members can only change benefits once every year during an employer's open enrollment period. The exception to this rule is qualifying life events.
If you are eligible for benefits and have satisfied your benefit waiting period, the following qualifying life events would allow you to change your benefits for yourself, your spouse, or your dependents mid-year:
Marriage or divorce

Having a baby or adopting a child

Death in the family, such as a covered member or eligible dependent

Change in employment status, such as changing from part-time to full-time

Dependent has their own coverage through a spouse or employer


Loss of existing health coverage

Loss of Medicare, Medicaid, or CHIP eligibility

Loss of coverage through a parent's plan (typically on 26th birthday)

Medicare eligibility (typically on 65th birthday or annual Open Enrollment)

Changes in household or residence

Incarceration

Becoming a U.S. citizen

Starting or ending AmeriCorps service

Becoming a member of a federally recognized tribe or an Alaska Native Claims Settlement Act (ANCSA) Corporation shareholder

Always refer to your Summary Plan Description (SPD) for full details on qualifying life events.
You only have 31 days after a qualifying life event to make changes to your benefits. To get started, log in to your dashboard and select the Benefits tab. Then go to Need to make changes to your benefits.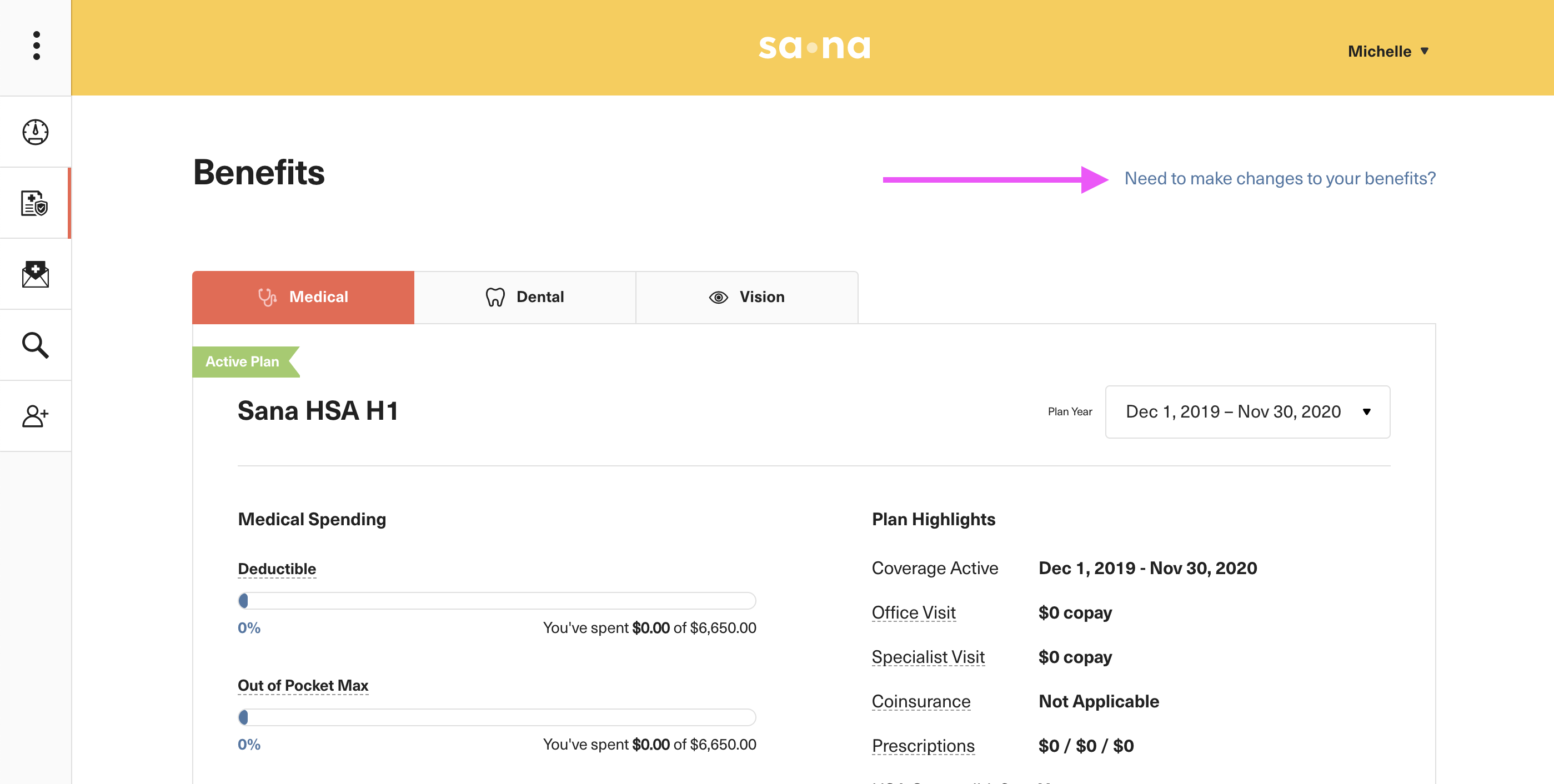 Once you submit your request, your employer will be contacted for approval.
If approved, your benefits will start or end on the date of your QLE.
Sana does not prorate monthly premiums.
Have questions? We've got you covered.


Log in to view account details.
Search FAQs in our Help Center.
Connect with Customer Support directly through the chat icon on most Sana pages or call us at (833) 726-2123 Monday through Friday, 7 AM to 7 PM Central.