Sana's self-funded plans offer the same great coverage you'd expect from fully funded plans while keeping costs down for employers and employees — but we don't stop there.
Sana's network includes many modern, world-class care partners to ensure you have quick and easy access to $0 care across the United States. We're also affiliated with the HealthSmart and Prime networks to ensure you can access 1.7 million provider locations nationwide.
By the end of 2024, every Sana plan will also come with the support of a concierge medical team that is at your side for every step of the care journey to ensure you're never navigating your benefits alone, and you're always getting the care you need when you need it. In the meantime, you can use Find Care to find providers or contact us for help accessing your preferred providers.
We offer a variety of plan designs for employers to choose from, ranging from low-cost plans with high deductibles to rich benefit plans with low deductibles.
Our plans fit into two categories.
PPO Plus: S, P, B, E, and C plans
Core (C Plans) -

New for 2023




Employee coinsurance is 50% after deductible

Basic (B Plans)




Employee coinsurance is 40% after deductible

Essential (E Plans)




Employee coinsurance is 30% after deductible

Premium (P Plans)




Employee coinsurance is 20% after deductible

Superior (S Plans)




Employee coinsurance is 10% after deductible
PPO Plus HSA: H plans
High Deductible Health Plans




Employee coinsurance is $0 after deductible
Please reference the chart below to see the differences and similarities between the letter tiers.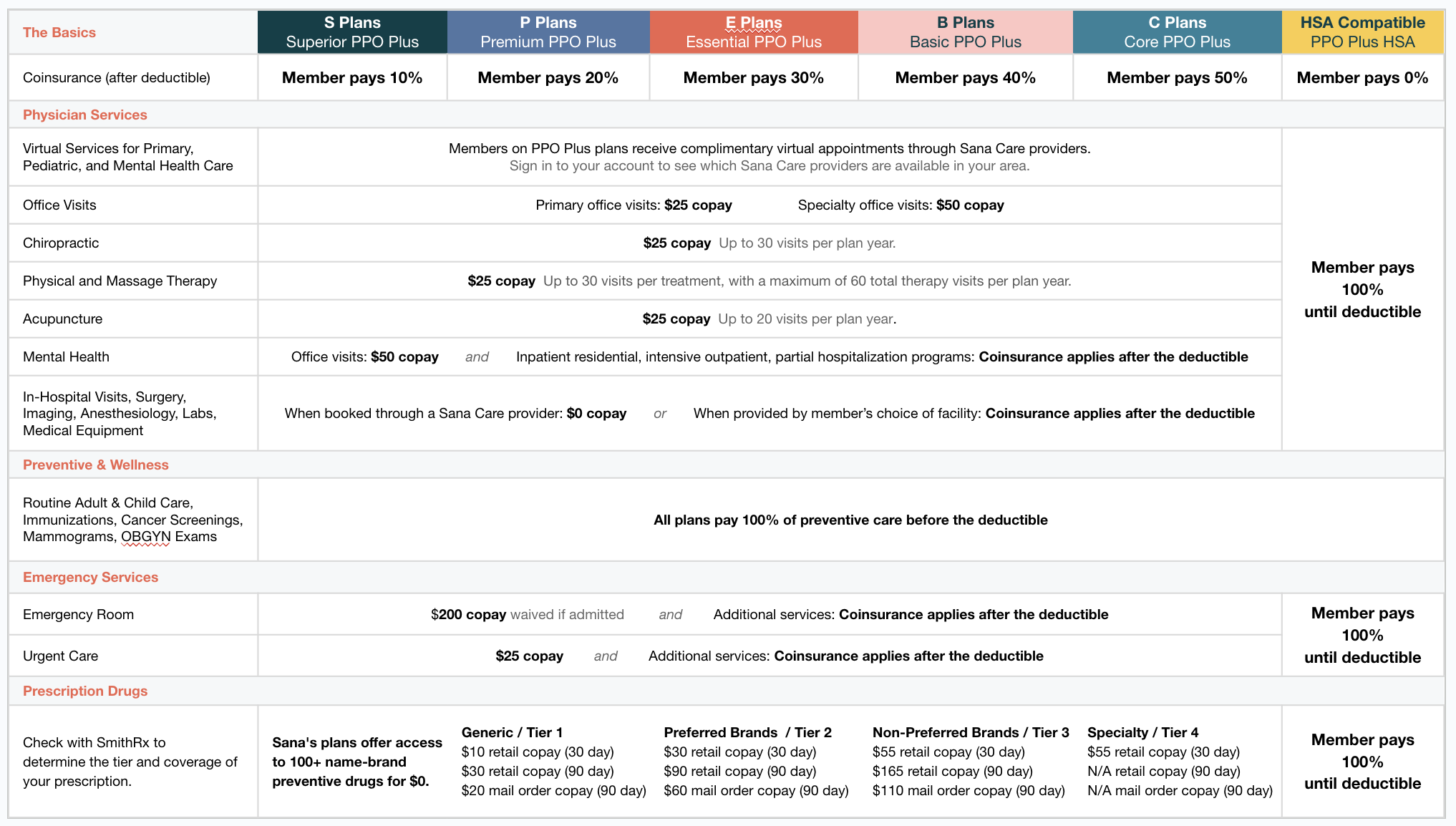 Our plans allow members to fill prescriptions at all major retail pharmacies through SmithRx.
Have questions? We've got you covered.